Main content starts here, tab to start navigating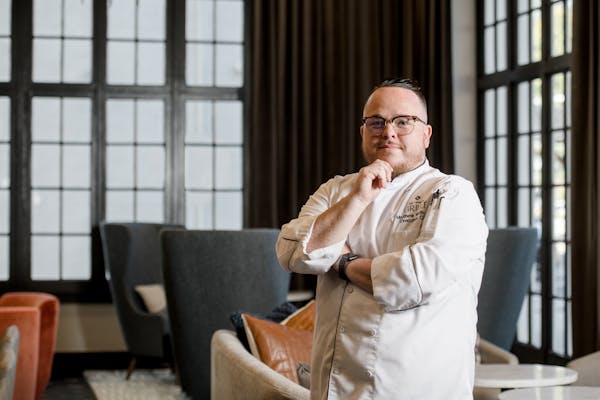 Chef Matt McBrayer
Executive Chef/Food & Beverage Manager
Matt McBrayer has worked diligently to develop menus that include the best ingredients, local offerings, and the source sustainable and humanely raised proteins. The Grille's new menu focuses on its quality ingredients with everything made fresh in the restaurant. At the Terrace Grille, everything is made fresh in-house daily. Every sauce and stock are made in small quantities, fresh every day, and never frozen. One of the Grille's menu highlights is its quality proteins. Chef Matt sources his meats from farms dedicated to regenerative farming. This includes sustainable practices, free-range eating, and no-antibiotics or hormones. His plates always feature a protein that is better to eat and better for the environment. When possible, he sources local ingredients like wild-caught fish, shellfish, and produce. In addition, Matt is a Level 2 Sommelier offering excellent pairings to his dishes and curating a unique wine list for the restaurant.
Matt was born and raised in Lakeland, FL where his passion for cooking started in the beginning, he was literally born into the kitchen! His Mother, a Chef and Restaurant Owner, went into labor during one of her dinner shifts. His earliest memory of cooking was in his mother's restaurant. He would watch their Sous Chef, Emilio from Spain, create chicken and veal stocks from scratch and fell in love with the art. His upbringing and experience shaped his style of cooking.
Matt has trained in several notable restaurants over the years. This includes five years at the Hard Rock, Orlando, FL and six years at The Little Nell, Aspen, CO. While working at The Little Nell, Aspen, CO's only 5-star and 5-diamond resort, they grew their herbs in-house and minimized waste by utilizing every aspect of ingredients possible. His experience varies from high-end restaurants to catering, a great fit to meet the demands of private events, such as weddings or business meetings, in addition to the Grille.
His favorite item on the Terrace Grille's new menu is the Colorado Bone-In Elk Chop, inspired by his work in Colorado. The Elk is sourced from a sustainable, quality vendor and is flown in from Colorado. Preparation includes sous vide the Elk, which infuses the garlic, shallot, butter, and herbs to get a delicious flavor. Chef sears the meat before serving to get a nice crisp on the edges and serves it with Butternut Squash puree.
Chef's Kitchen culture is built on inclusivity, family, and trust. He loves to teach new techniques and bounce ideas off of the team. Together they experiment with evolving the Grille's offerings constantly. No task is beneath or above anybody. The team is all there to work as a family to get the job done and serve delicious food to their guests.